Helping Hands for Hunger Relief
Optimum CX staff recently volunteered at the Food Bank of Northern Nevada, where they sorted, boxed and prepared for shipment approximately 7,000 pounds of food for families in need.
"We'd like to thank the Food Bank of Northern Nevada for inviting us to help with this important, on-going project," says Peter Claypatch, Optimum CX CEO. "We look forward to partnering with them again in the near future."
About Food Bank of Northern Nevada
The FBNN provides emergency food services to families through a network of more than 140 partner agencies in a 90,000 square mile service area throughout northern Nevada and the eastern slope of the Sierra in California. They serve more than 95,000 people each month, half of whom are children and seniors. Last year, the organization provided more than 13.3 million meals to neighbors who were hungry.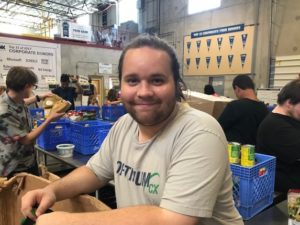 About Optimum CX Outreach
We participate in monthly outreach initiatives that support our community because we believe in giving back to help make our world an even better place to live and work. To find out more about the organizations we support or how you can become part of our dynamic, collaborative team, please contact Michael Fenyes.